Thank you very much for coming to the Knitting and Stitching show.
We hope everyone who came to the show could enjoy this event and our stand.
We will update the Japanese knittng books gradually and not soon but we try to update as soon as possible. Our Japanese knitting culture using symbols, chart and diagram would give you an another world. if you have any questions, feel free and please let us know. Thank you.
workshop in November
We start wrokshop with Yoshimi's twist scarf and Pon Pon. Becuase this scarf and Pon Pon have some technics you can use for any work. And please bring some images you would like to make. Yoshimi also has a lot of knitting books and you can also see them. The workshop in November is as below.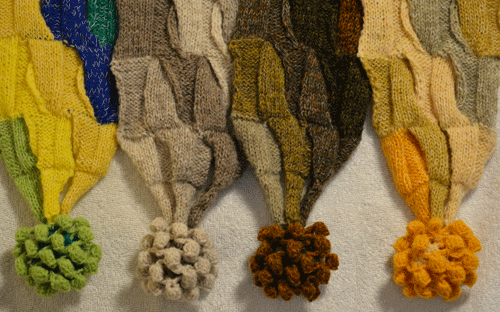 Date :
16-11-2017 Thursday 13:00 to 16:00 or
18-11-2017 Saturday 13:00 to 16:00
Price
£90.00 including yarns and insturctions.
£65.00 if you prepare yarns by yourself.
Please e-mail us if you are interested in our workshop.
e-mail address wool@eurojapantrading.com
Yarns
* Shetland yarns

Spindrift lace weight
2ply Jumper weight

* Alpaca yarn - UK Alpaca   *ROWAN       *Rooster
   


* Guernsey yarn - 5ply     * Irish yarn 
* socks yarn
book
NEW                             ( ) excluding VAT
SHETLAND

Author Marie Wallin
£18.00
Prym needles

Prym Knitting Thimble
plastic, 4 yarn guides